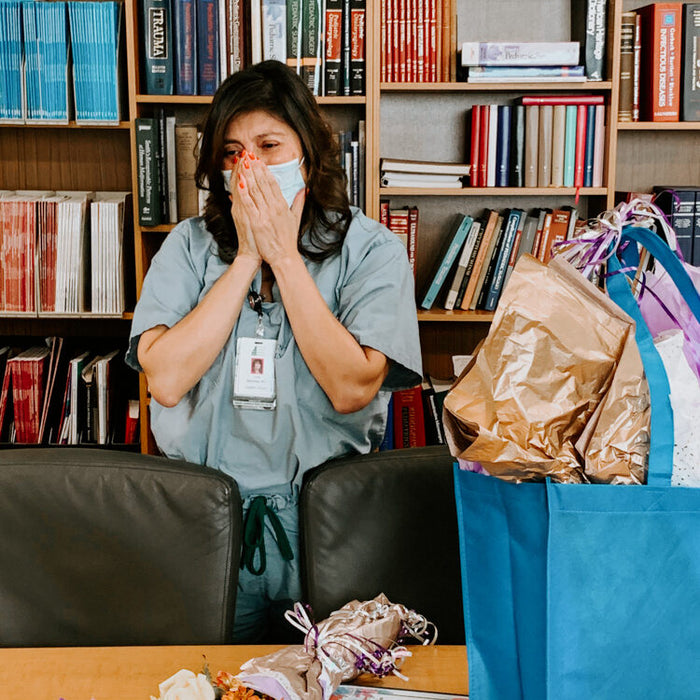 SHE CARES SO MUCH ABOUT THE BABIES SHE CARES FOR THAT SHE DEVELOPED A CLOTHING LINE DESIGNED TO ALLOW ALL OF THE SURGICAL TUBING AND LINES ATTACHED TO THE BABY TO FIT COMFORTABLY THROUGH THE GARMENT. IT HIDES THE TUBES AS WELL, MAKING BOTH THE SMALL PATIENT COMFORTABLE.
Julie is a Pediatric Surgeon in Austin, Texas, and was nominated by her friend Carol. Julie was born in Mexico, grew up in Texas, and is one of the few Mexican-American Pediatric Surgeons in the country. Carol says, "Let me tell you how Julie is a light every day. She is a woman of faith who uses her faith every day, operating on very tiny and ill infants to make them well and survive under sometimes very dire situations. She cares so much about the babies she cares for that she developed a clothing line designed to allow all of the surgical tubing and lines attached to the baby to fit comfortably through the garment. It hides the tubes as well, making both the small patient comfortable." ⁠

Julie's company, Spoonie Threads, spun off in 2021 from her previous company, Abilitee Adaptive Wear, to meet young patients' needs (under 18). Spoonie Threads makes adaptive products for people with medical devices, chronic illnesses, or unique medical needs. And, here's the best part, she donates these specialty infant garments to mothers who can't afford to purchase, with all the other medical expenses in tow.
⁠
"Julie is warm and caring and a Mom of a young boy, whom she is raising as a single mom after the sudden death of her loving husband. Julie continues to be strong every day for her son, her family, friends like me, and most importantly, for the little, tiny patients she operates on daily. She is an inspiration to everyone who has gotten to know her," Carol says.
⁠
And, she certainly inspires us! Viva Babe Julie, thank you for emanating love and light on so many! Shine on!
⁠
Learn more: https://spooniethreads.com/
Adaptive. Accessible. Fashionable. Fun!⁠