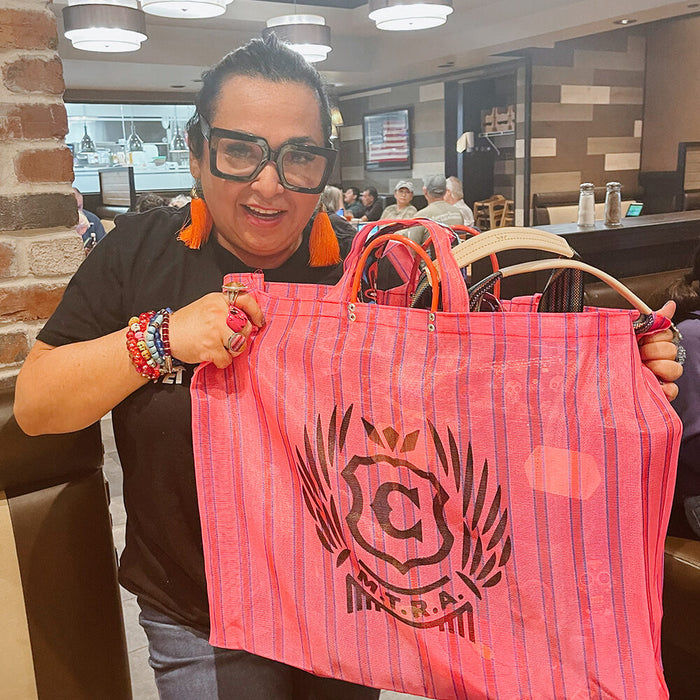 YOU CANNOT HELP BUT SMILE WHEN YOU SEE HER AS SHE HAS A WAY OF ALWAYS LIFTING OTHERS UP, DESPITE ANY HARDSHIPS SHE MAY HAVE FACED ALONG THE WAY. SHE VALUES LANGUAGE AND CULTURE, AND LOVES TO SHARE WHY THEY ARE SO IMPORTANT TO HER.
Dr. Edith, aka 'Dr. ET' is a professional education consultant in Weslaco, Texas, and she was nominated by a former colleague, Crystal. Dr. ET was born in Mexico, learned English at seven years old, and for many years she went to school as a transnational student, crossing the border daily. On her website, Dr. ET says, "I fell through the cracks and failed high school." However, soon afterward, she enrolled in the Army reserves and had an 'ah ha' moment that changed the course of her life. She went on to earn a Doctorate in Curriculum and Instruction with an emphasis on Bilingual Studies.
Crystal met Dr. ET when they were both teachers; Two of Dr. ET's kids were students of Crystal's through the years, they became friends, and Crystal learned of Dr. ET's pursuit of her doctorate. Crystal says, "I found that highly inspirational as I have known the challenge of attending school while being employed full-time and having children to raise. Dr. ET did it with class and grace."
⁠
"I also learned that Dr. ET lost her father in a tragic way when living in Del Rio, TX, which is what prompted them to come to our region of Texas, and what inspired her doctoral research," Crystal says. "Dr. ET soon went on to start her own business, and she provides training, motivational speaking, and other services anywhere she is needed. She has several trademarks which note her uniquely amazing style and flair, many of which are her hats and her glasses. You cannot help but smile when you see her as she has a way of always lifting others up, despite any hardships she may have faced along the way. She values language and culture, and loves to share why they are so important to her. At the end of the day, Dr. ET is truly passionate about what she does, who she serves, and where she is from." ⁠
Learn more about Dr. ET and her inspiring pursuits,
https://www.dretandcompany.org...⁠