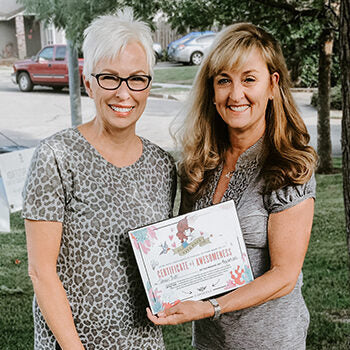 WHEN THE DAY IS TOO MUCH, I REMEMBER THE DAY IS BRIGHTER WITH MY GIRLFRIENDS BESIDE ME.
Dr. Doreen is a dentist in Napa, California, and is part of a team of volunteers at a drive-through testing center. She has generously volunteered six days a week since COVID-19 started. In fact, it's a family affair; Her husband and two sons are also volunteering at the testing site. Their team has tested over 12,000 people in the community. Her nominator, Cheryl, is a friend who works in the same dental practice and shares, "She is in protective gear for many hours a day, in the heat or in the early morning cold. It is a selfless thing she is doing, and I am very proud of her! She is a fashionista when she is not in Hazmat-type attire!"⁠
⁠
Dr. Doreen says, "I am so proud of all of the volunteers in our community and beyond fighting this pandemic. One of my sayings is when the day is too much, I remember the day is brighter with my girlfriends beside me. Living with all males, I rely on my girlfriends."
⁠
Wow, Dr. Doreen! We are in awe of your unwavering dedication to others. And we couldn't agree more…our girlfriends lift us, renew our spirits, and empower us. Life is best lived surrounded by our girl gang!