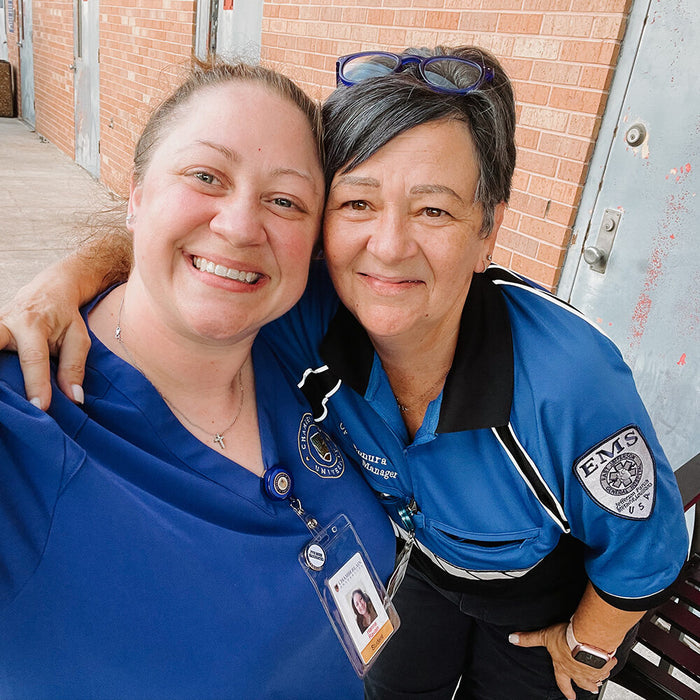 IF HER PEOPLE ARE IN THE TRENCHES, SO IS SHE. I'VE WORKED WITH HER AND FOR HER FOR 11 YEARS. NOT ONCE IN THOSE 11 YEARS HAVE I EVER SEEN HER WAVER
"Dawn is 5'2" of spitfire and determination who leads a department of 80+ medics in the day-to-day chaos that is 911 EMS," her nominator Hanna says. "The men and women in our department respect her and even love her. She is fearless because she has led us through hurricanes, economic decline, and most recently COVID-19 with a sense of determination that never quits."
⁠
Her commitment to her team never falters. Even after working a 12-hour day administratively, she will jump in an ambulance to support her staff. Hanna says, "If her people are in the trenches, so is she. I've worked with her and for her for 11 years. Not once in those 11 years have I ever seen her waver."
⁠
Dawn shows up…from making candles with inspirational sayings during the COVID lockdown to her unyielding compassion when life gets hard. Hanna says, "She held me as I wept when I found out my home was destroyed after we spent two days working around the clock during a hurricane. She called me every day to check on our 5-year-old son and me when my husband, who is also one of her paramedics, was hospitalized with COVID. It's everything she does. More than that, she does it because it's WHO SHE IS as a person."