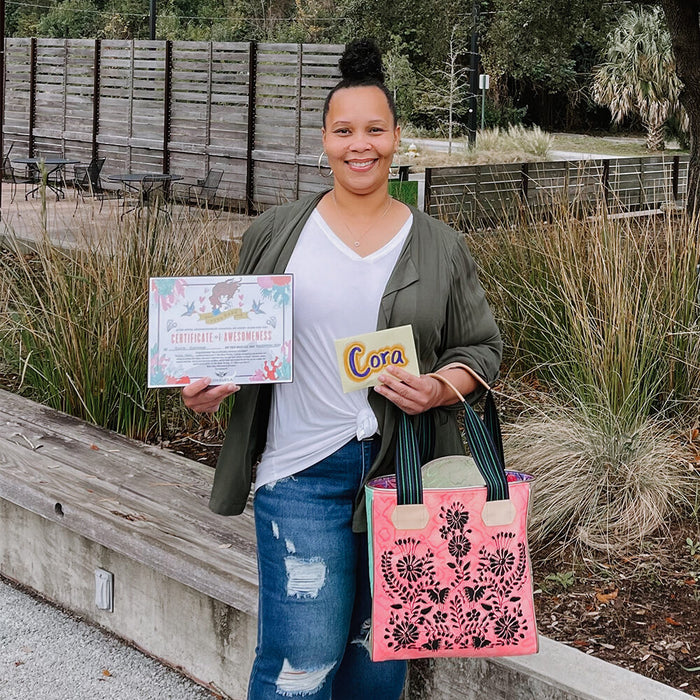 CORA
CHARLESTON, SOUTH CAROLINA
SHE WAS LIKE AN ANGEL SENT TO US. SHE GAVE US DIRECTION WHEN WE WERE COMPLETELY LOST. SHE SHARED HER OWN EXPERIENCES AND WAS VULNERABLE. SHE WAS PATIENT AND SHE WAS HONEST.
Cora lives in Charleston, South Carolina, and was nominated by Triva. Triva says, "My 27-year-old son was diagnosed with a very rare cancer called RMC – Renal Medullary Carcinoma. Immediately, I started researching this cancer and Cora's name kept coming up. I looked her up on FB and sent her a message. She replied right away. She was like an angel sent to us. Her brother was diagnosed with RMC back in 2012 and is the only patient that has survived this long. The average is only 3-4 months as was the case with my son."
"It's so rare that there isn't funding", Triva says. "Cora has made it her life mission to bring awareness and help the families dealing with RMC. She volunteers for myCancerConnection which is MD Anderson's one-on-one support program that connects patients and caregivers with survivors who've been there. She started her own nonprofit organization to raise awareness about RMC."
"Although I've never met Cora, I felt like I've known her forever. She made herself available to us 24/7. She gave us direction when we were completely lost. She shared her own experiences and was vulnerable. She was patient and she was honest. She put us in direct contact with the only doctors that know about this cancer. She prayed with me. She would check in constantly. She showed love and compassion to a family she didn't know. We weren't the only ones. This is what she does every day along with taking care of her own family and working. I honestly don't know what we would have done without her. She is a true angel. God gifted her to us when we need it the most."
One of Cora's favorite quotes is from Desmond Tutu, "Do your little bit of good where you are; it's those little bits of good put together that overwhelm the world."
https://rmcsupport.org/