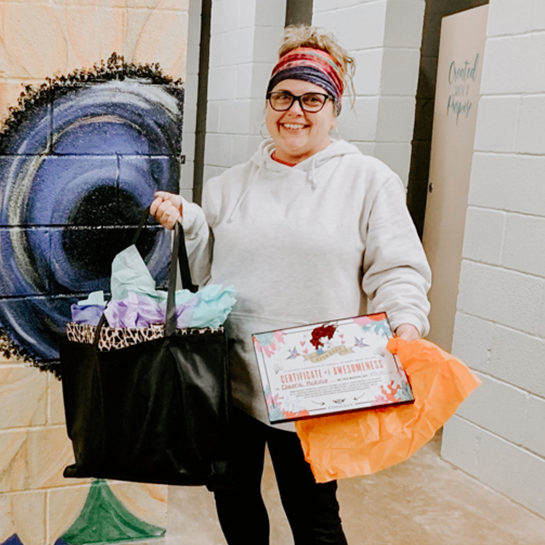 AS SHE HAS DEALT WITH HER OWN GRIEF, SHE CONTINUES TO LOVINGLY CARE FOR THE PATIENTS SHE HAS KNOWN FOR THE LAST QUARTER OF A CENTURY - EVEN WHEN THEY CALL HER CRYING BECAUSE A LOVED ONE IS SICK OR DYING OF COVID. CHERRIE TREATS EACH AND EVERY ONE OF THEM WITH LOVE, DIGNITY, AND RESPECT.
Cherrie lives in Brownwood, Texas, and was nominated by her sister, M.C. For 25 years, Cherrie has been the Office Manager of a local family medical practice and pours her heart and soul into her role. M.C. says, "The pandemic has taken its toll on many frontline healthcare workers, and not only has Cherrie risen to the occasion but overcome it, as her own 24-year-old daughter, Shelby, passed away unexpectedly due to complications of pneumonia in October. As she has dealt with her own grief, she continues to lovingly care for the patients she has known for the last quarter of a century - even when they call her crying because a loved one is sick or dying of Covid. Cherrie treats each and every one of them with love, dignity, and respect."

Cherrie seeks ways to honor her daughter, raising funds and supporting organizations that were special to Shelby. She hand made and sold t-shirts with Shelby's favorite motto 'Veni. Vidi. Amavi.- We came. We saw. We loved.' with all profits going to a local transitional housing program to help those who are homeless get back on their feet. Recently, Cherrie and family and friends painted murals that Cherrie designed in the girl's bathroom at Shelby's favorite camp. M.C. says, "This camp was so very special to Shelby and is special to all of us. It was quite an emotional weekend." One of the murals served as the backdrop to her Consuelabration, an extra special celebration to remind her that she is a light, she is an inspiration, and she is loved.