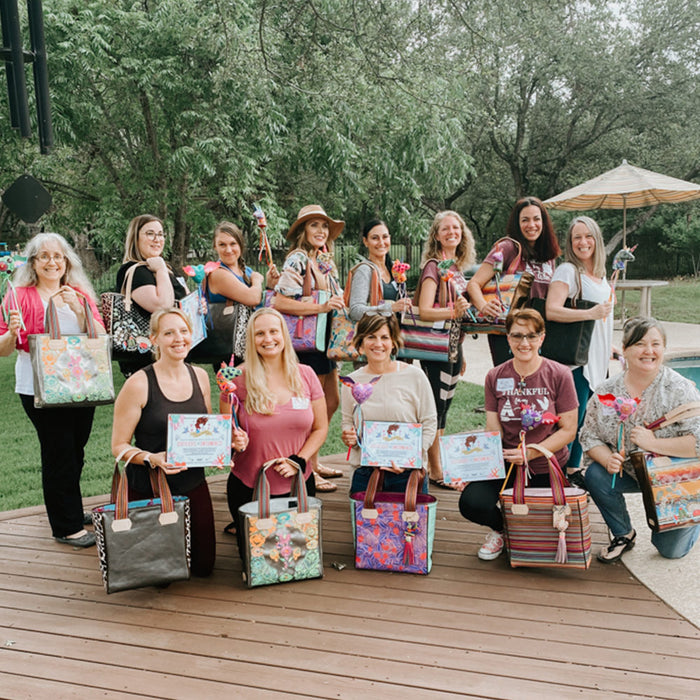 Cheyanna's Champions 4 Children (CC4C) is a local Austin-area non-profit with the mission of enhancing the quality of life for children in Texas with rare and undiagnosed conditions. Tribe 4 Moms is an extremely important program in the organization, allowing moms of the CC4C kids to connect, share resources, and have fun. Nominator, Mikayla, who works for CC4C, says, "Our organization was founded by a strong woman through her own journey with a child with a rare medical condition. Many of our moms are full-time caretakers, as their children have very complex medical conditions, requiring full-time assistance and care. [The moms] say that the Tribe 4 Moms program is such a wonderful break to share stories with other women who understand their journey." Last Saturday, the Tribe 4 Moms had a Tribe retreat, an opportunity to bond and reset.
Moms enjoyed a day of yoga, painting, a delicious lunch, and more. The event's culmination was their joyful 'It's Not About the Bag' presentation, where each participant was recognized and celebrated with a Viva Babe Consuelabration gift package.
Moms, we see you. You are doing your best, and you are doing amazing! From our Certificate of Awesomeness gifted to each mom, "You are an inspiration to others, and yes, you are that awesome!
To learn more,
https://www.cc4c.org/