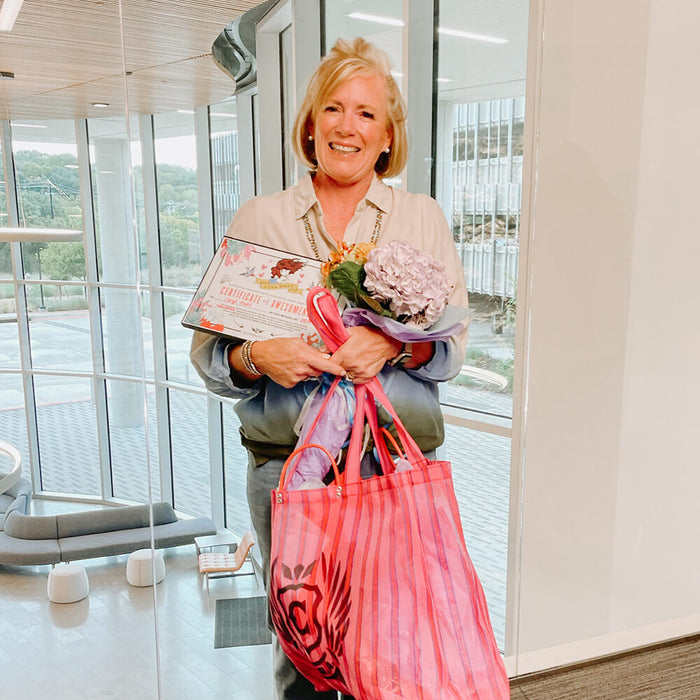 NO DOUBT, LIFE IS CHALLENGING. WHEN IT'S OVERWHELMING, I JUST HAVE TO BREATHE, RESET, AND SAY A FREQUENT PRAYER ASKING FOR: '...A LOT MORE JESUS AND A LITTLE LESS OF ME'
Caryl has a private piano lesson business and was nominated by her friend, Nance. Caryl teaches piano lessons to children ages three and older, and "when COVID hit, her business took a major dive, leaving her unemployed," Nance says. "When schools, daycares, and other programs shut down, she lost all of her business in Austin and San Antonio, TX, as well as Atlanta, GA. To keep her teachers having an income, she let them all take their students and start teaching privately (which is against her contract with them), but she had more love for her teachers and students than money."
⁠
Caryl remained resilient, optimistic, and reset her perspective. Nance says, "Her husband needed someone to help him stage houses for his clients trying to sell their homes during a very rough time. She pulled on her big girl panties, having meetings with clients, taking courses to become a licensed stager, and trying not to second guess every decision she makes when staging a home. She never takes a day for herself; even when we go shopping or just for coffee, we are always looking at the pictures of client's homes or items for a house she has to stage soon, trying to determine what is needed to maximize the home to its fullest potential."
⁠
When asked about her message of positivity, Caryl replies, "No doubt, life is challenging. When it's overwhelming, I just have to breathe, reset, and say a frequent prayer asking for: '...a lot more Jesus and a little less of me.'"
⁠
Thank you, Caryl, for your commitment to others and for rising up to face life's challenges with positivity and grace. When you're feeling 'beyond stretched,' we are here to remind you that you are remarkable!