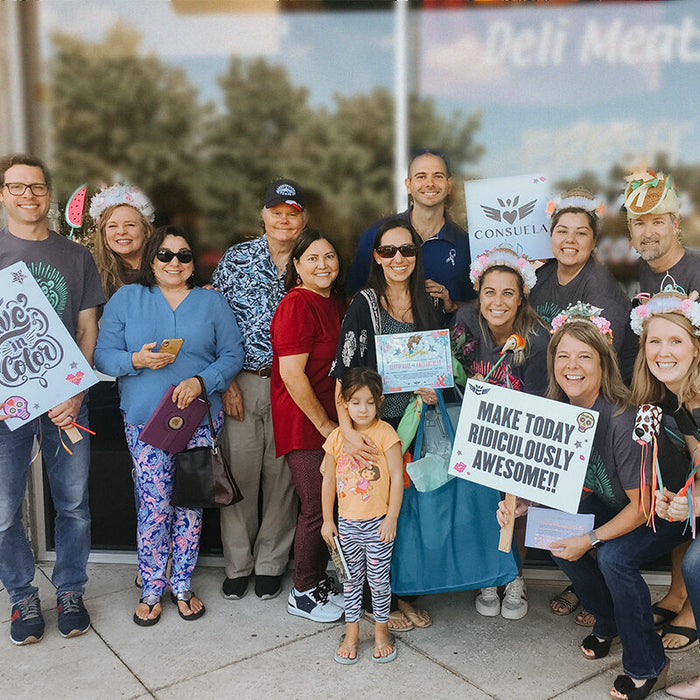 AND THEN, ONE DAY, THEY BUILT A FOUNDATION. TOGETHER. THE TONY FOUNDATION ASSISTS FAMILIES WHOSE PRIMARY BREADWINNER IS STRICKEN WITH A CRITICAL ILLNESS AND INCAPACITATED. IT WAS BORN OUT OF THEIR STRIFE, THEIR FRUSTRATION, AND THEIR LOVE FOR HUMANITY.
Carrie lives in Austin, Texas, and was nominated by her cousin Jo Anna. Despite unrelenting adversities, Carrie has weathered her storms with resilience, light, and love. Carrie's mother died of leukemia when she was only 9. When she was seven months pregnant with their second daughter, her husband Tony had emergency surgery to remove a kidney tumor. Jo Anna shares, "So their recovery (post-baby #2 and post-surgery #1) was together, with Carrie carrying most of the weight, supporting her family emotionally, mentally, and always with a smile." Then, two years later, Tony was diagnosed with completely unrelated brain cancer and underwent brain surgery when Carrie was eight months pregnant. With three children under six years old and a husband undergoing chemotherapy, "Carrie was still making them homemade meals, still trying to raise sweet and compassionate children, and posting pictures of life's little successes."
"And then, one day, they built a foundation. Together. The Tony Foundation assists families whose primary breadwinner is stricken with a critical illness and incapacitated. It was born out of their strife, their frustration, and their love for humanity. Carrie is the brightest light I've ever known. You feel it the second you meet her. Her power comes from a place deep within her," shares Jo Anna.
Wow! Carrie, your tenacity is remarkable. Your rays of sunshine brighten the world and are lighting the way for others. You are unstoppable‼️
To learn more about the Tony Foundation, visit
https://tonyfoundation.org/