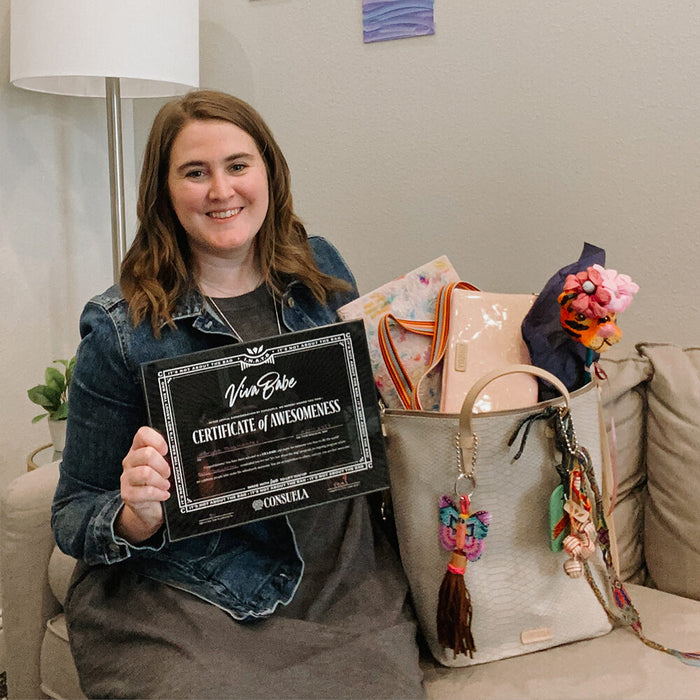 SHE LOVES THAT SHE CONTINUES TO SUPPORT GRIEVING FAMILIES IN NEW WAYS! BRYNA IS SOMEONE WHO SHOULD BE CELEBRATED BECAUSE SHE CONTINUES TO CHAMPION FOR CHILDREN WHO ARE GRIEVING, 20 YEARS AFTER HER FIRST DEATH LOSS.
She shows up, leans in, and helps youth navigate grief with a deep understanding; Viva Babe Bryna is a gift, and she's captured our hearts.
Bryna is a Licensed Marriage and Family Therapist in Plano, Texas, and was nominated by her mother-in-law, Betty. She started her own therapy practice and is the Program Manager at Journey of Hope (JOH) Grief Support Center.
Betty says, "At the age of 9, Bryna's dad died. Her feelings of grief were hard to talk about at school, and, like most grieving children, she did not like talking about her grief at home because she did not like making her mom cry. JOH was the only place she could talk about her feelings."
"Bryna suffered another loss at the end of 8th grade- her Grammy died. She had the space to process her anticipatory grief and all her feelings after her Grammy's death with her group once again."
"When she was 19, Bryna's mom died unexpectedly. After her mother's death, she decided she wanted to be a therapist and specialize in grief to be able to hold space for those who were now walking the same path she had to walk as a child, teen, and college student. She completed her education with determination and support from her friends and her church. She became a JOH Facilitator in grad school and worked with the 2nd-3rd grade group."
"She has hopes of writing books and starting a podcast in the fall to continue to normalize the grief experience for all. She loves that she continues to support grieving families in new ways! Bryna is someone who should be celebrated because she continues to champion for children who are grieving, 20 years after her first death loss."
Bryna reminds us to be present, "I try to live moment by moment, one thing at a time. I'm working towards a life that brings me joy!"
Learn more,
www.talamanteztherapy.com
and
johgriefsupport.org