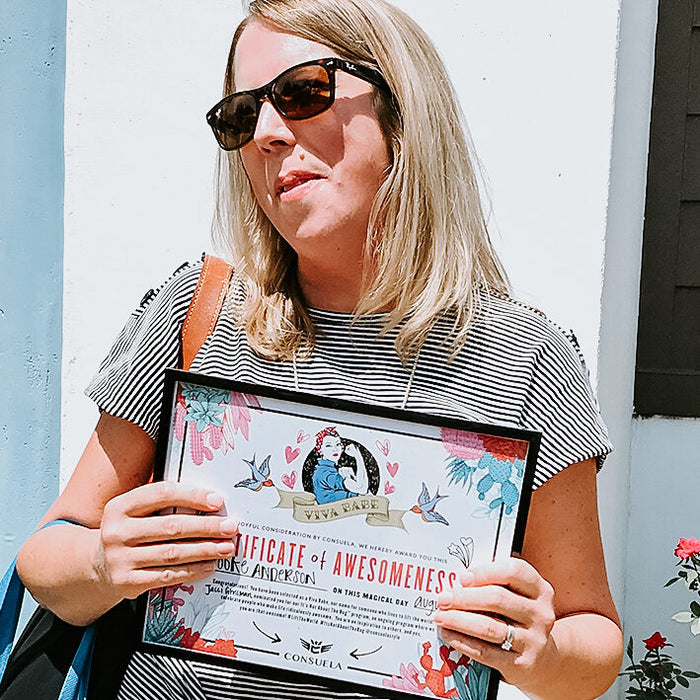 BROOKE TRULY EXEMPLIFIES WHAT IT MEANS TO LIVE A LIFE OF POSITIVITY AND TO ALWAYS LIFT OTHERS.
Joining the ranks of our oh-so-loved Viva Babes, is a total rock star, Brooke!

According to her nominator, friend, and co-worker Jacci, Brooke "truly exemplifies what it means to live a life of positivity and to always lift others." Brooke is a Social Worker who served eleven campuses within an Austin, Texas school district where she was also a grief counselor for the entire district. Currently, she works as a Licensed Clinical Social Worker for an Austin-area elementary school and she is well versed in Austin's community resources, connecting many in need with housing, financial, and mental health resources. As if this wasn't enough awesomeness, Brooke is a Field Supervisor to student interns at the University of Texas' School for Social Work.

When she's not shining brightly on the job, Brooke is wonderfully mothering two girls and serving as a Girl Scout troop leader. She's a firm supporter of the arts and works to instill an appreciation for them in her family. She's also an avid lover of the outdoors, running five miles a day before the sun comes up! Clearly, this babe has an amazing amount of energy!

Lastly, but absolutely not least, Brooke recently wrote and received a grant from local grocer H-E-B, to provide books and bags to children who lack proper resources during the summer months.

Brooke, you are fabulous! We're so glad you're a Viva Babe!!