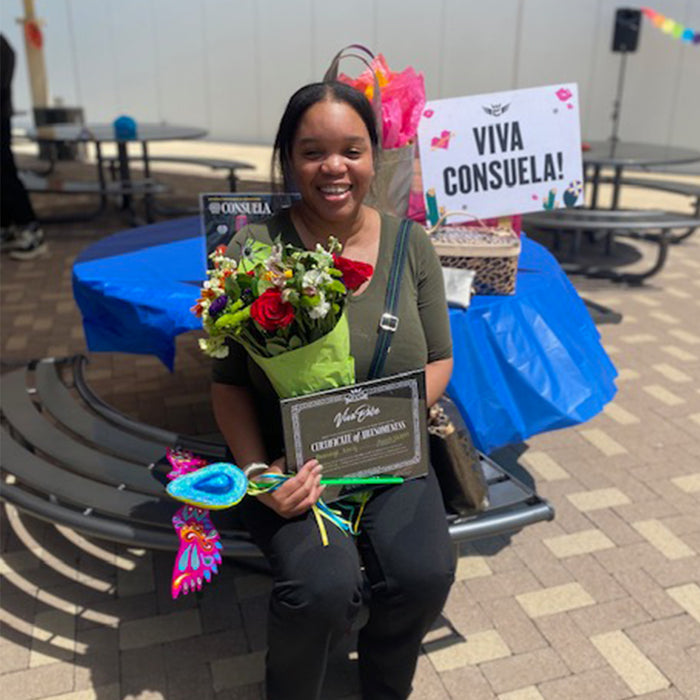 If you're going to pray, don't worry, and if you're going to worry, don't pray
Brandye's mom and nominator shared that she is the most beautiful and courageous young lady in the Universe! Her mantra has always been, "If you're going to pray, don't worry, and if you're going to worry, don't pray." She read this slogan in a small Beauty Shop in Angleton, Texas, at Mrs. Hallie's Beauty Shop and has used this message to keep her faith ever since.
Brandye began losing her eyesight in the 11th Grade while attending Brazoswood High School. Brandye disliked being pulled out of class to learn skills for people who are blind. Undeterred by the physical and empowered by tremendous faith, Brandye participated in Cross Country Track and took Photography courses to help with the High School Yearbook! Despite being legally blind and diagnosed with Retinal Pigmentosa, Brandye excelled and graduated with a Degree in Communications from Sam Houston University!! 
Upon graduating college and returning home to Brazoria County, Brandye was convinced to attend the Chris Cole School for The Blind in Austin, Texas, where she blossomed! Brandye was able to meet others experiencing similar vision loss and was taught life skills to overcome challenges and difficulties that came her way. Upon graduating from that awesome program, Brandye found employment at the Travis Association for the Blind, was awarded Employee of the Year, and has thrived ever since! Whoop Whoop! 
Yearly, Brandye also travels to Washington to advocate for the Blind! 
A-MA-ZING!! 
In Mom's own words: "Brandye is my inspiration in life; she has tremendous spiritual faith and tenacity. Every day, I pray others can look at her and be encouraged to live fearlessly and strive to reach for the stars. Her dedication and loving heart to always help others is what helps this world be Ridiculously Awesome!!"
Brandye's Mantra "If you're going to pray, don't worry, and if you're going to worry, don't pray."