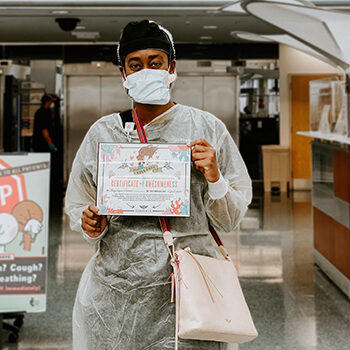 EVERY DAY SHE PUTS HERSELF AT RISK IN ORDER TO HELP OTHERS HEAL. AND THE BEST PART ABOUT IT IS, SHE DOES IT WITH A SMILE!
Angelique is a Registered Nurse who resides in Dallas but assumed exceptional risk in raising her hand and accepting the call to assist the nurses in the overwhelmed New York healthcare system. Within a couple of days of learning about the program, she volunteered to leave her comfort zone and fly to COVID-ravaged NYC to work in the Queens Hospital Emergency Room. Her colleague and friend Kourtnei nominated her saying, "Every day she puts herself at risk in order to help others heal. And the BEST part about it is, she does it with a smile! Angelique makes the world ridiculously awesome through her bravery, her knowledge, and her charisma. I can't think of anyone else more deserving of this award!" ⠀
⁠⠀
After five weeks in New York, Angelique returned home to Dallas and is now approaching the end of her 14-day required isolation.
⁠⠀
Angelique, we are in awe of your courage and your selflessness. You are a modern-day superhero, we are thankful for you, and we applaud your awesomeness!