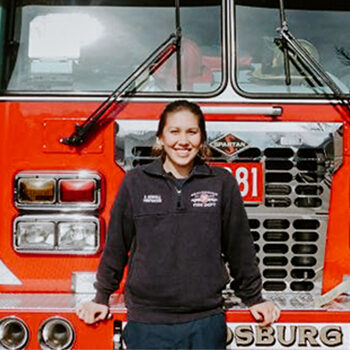 AMANDA
CLOVERDALE, CALIFORNIA
THERE ARE MANY QUALITIES AND SKILLS THAT MAKE MY SISTER EXTRAORDINARY; HOWEVER, ONE OF MY FAVORITES IS HER PASSION FOR MENTAL HEALTH AND WELLNESS FOR FIRST RESPONDERS.
Massive fires are raging across California, and as a Fire Engineer, Amanda is on the frontlines, protecting people and property. She battled fires in Lake Hughes earlier this month and has now moved to fight the sea of flames near Healdsburg, CA, near her hometown. Amanda and her team are out fighting fires for days-on-end, with very little rest, but that doesn't stop her. Her passion for firefighting was ignited at an early age after watching the events of 911 unfold at 13. Amanda has been actively engaged in firefighting ever since.

Not only is she blazing trails as a female Fire Engineer, but she's also driven to improve the wellbeing and happiness of her fellow firefighters. Her sister Tracy nominated Amanda and shares, "There are many qualities and skills that make my sister extraordinary; however, one of my favorites is her passion for mental health and wellness for first responders. Amanda has taken it upon herself to provide the most up-to-date and effective resources for her department, and she has become a leader to many of the other local stations as well. Her most recent accomplishment is a yoga certification so she can provide in-house yoga workshops for firefighters and first responders."

Amanda, you inspire us! Thank you for saving lives and property and for being an incredible role model, "setting the example and paving the way for so many young women who may wish to pursue a career in Firefighting," Tracy concludes, and we wholeheartedly agree!